You all remember the Rubik's Cube, right? I remember getting one as a gift ages ago, probably for Christmas. After fiddling with it for hours & still not being able to solve it, my Rubik's Cube languished on the toy shelf in the family room. I got the chance to try out a new board game recently called
Rubik's Race
& I have to admit, I was a tad apprehensive about it, remembering my failure to get all those little coloured squares matched up properly.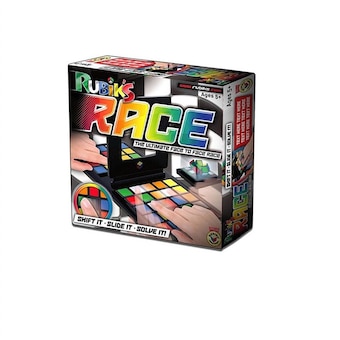 Rubik's Race
is actually quite different to the cube. For one, it's two-dimensional, very similar to those puzzles where you slide the little tiles around in the frame to make a picture. Secondly, as you could probably tell from the name, it's a head-to-head game. Basically, you have to reproduce a pattern of colours within the centre three by three squares by moving the squares around within the five by five grid. The first player to have the pattern matched exactly wins. It's quite a quick game--great for kids (suggested for 5+) & a good way to work on logic, strategy & spatial awareness.
Rubik's Race
is about $25, available online or in stores. You can also get the
Rubik's Race app
to play it on your Apple device (though sadly, not for Android) for about $1.
Disclaimer: I received Rubik's Race to try out, but was not otherwise compensated for this post. The words & opinions above are my own.
Nothing says "best gift ever" like a
caribou
!
Starting at just $40, Gifts of Canadian Nature help protect habitat for Canada's native wildlife. A Gift of Canadian Nature lasts for years to come and is a gift that gives thrice! Once to the recipient with a personalized certificate and a beautiful calendar, once to the giver with a charitable tax receipt, and once to Canadian wildlife. This year we are featuring the snowy owl, the grizzly bear, the caribou, the gray fox and the Canada lynx. Click the image or follow this link for more information.
Like what you see here? Subscribe to The Sprog & don't miss another post!