Last year I was nominated as one of Vancouver's Top Bloggers in VancouverMom's annual contest. I biked to the 2012 celebration at the Museum of Vancouver, where I got to see the exhibits, have some wine & appies. I got some amazing swag--tons of Nature's Path products, freebies from lots of sponsors, plus there were makeup & nail artists at the event. One of the most useful things: I received a great headshot by
Images By Bethany
.
I was flattered to be on the Top 30 list, & excited to get to go to the event, but I had no idea how it would really change things for me.
Besides getting more attention for The Sprog--meaning tons of interesting opportunities to review things, attend great events--I met the other moms in the top 30. We didn't all talk at the big event, though I met some of them & chatted a little. A little later, we started a Facebook group for just the 30 of us, which grew into something amazing. Our blogs are pretty different, from fashion to reviews & giveaways to photography to you-name-it, but we all have the common bond of being moms & bloggers. We started sharing tips, opportunities, collaborating on things like blog trains & chatted. A lot.
I can't remember how many times we've organized get-togethers in person. Despite being busy moms from all over the Lower Mainland, we manage to see each other in real life once in a while. I've come to think of this diverse network of other mom bloggers as friends & really value their advice & support.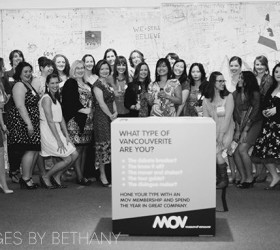 This year's Top 30 Blogger Celebration
This year's Vancouver Mom Top Blogger contest is upon us: dozens of bloggers were nominated & the top 30 have been shortlisted already.
You can read about them here, on VancouverMom's site, starting on May 20: 1-6, 7-12, 13-18, 19-24, 25-30.
May 27-June 7, 2013, voting opens for the top overall amazing Vancouver mom blogger.
Vote for your favourite among the top 30. The big winner will be revealed on June 19, 2013, when we'll celebrate the 2013 Top 30 Vancouver Mom Bloggers.
Last year's event was great fun, a fabulous way to network & meet other people: other bloggers, PR people, brands looking to connect. This year's event promises to be incredible too.
The even will be at Secret Location, "one part lifestyle boutique, one part restaurant."
Secret Location
is a concept store that offers deliciously fresh design and cuisine in the heart of Gastown. Tickets include light appetizers and a glass of wine or non-alcoholic beverage. Cash bar is also available. Tickets are $$ until May 31, then $ until the event.
To buy tickets online to
GLAM: 2013 Top 30 Vancouver Mom Blogger Celebration, visit this link.